It takes a bold author to begin a foreword with 'you might not want to buy this book.' I can sort of see where Patrick Rothfuss is coming from, but I have to say I am glad I ignored the warning (although, having read his previous books, I had no reason to heed it).

The Slow Regard of Silent Things is a novella told from the point of view of a minor character in Rothfuss's fantasy saga, The Kingkiller Chronicle. So far, the series contains two books: The Name of the Wind and The Wise Man's Fear. I can see why Patrick is worried about spoilers or people not understanding Slow Regard due to not knowing who Auri is, but personally I think he shouldn't worry. Even on its own, Slow Regard is a unique, charming book which works as a self-contained narrative as well as a wonderful compliment to the main series. If you know Kvothe's story, this will give you much more insight. If you don't, then it's a quirky, innovative tale which will leave you wanting to read the other books.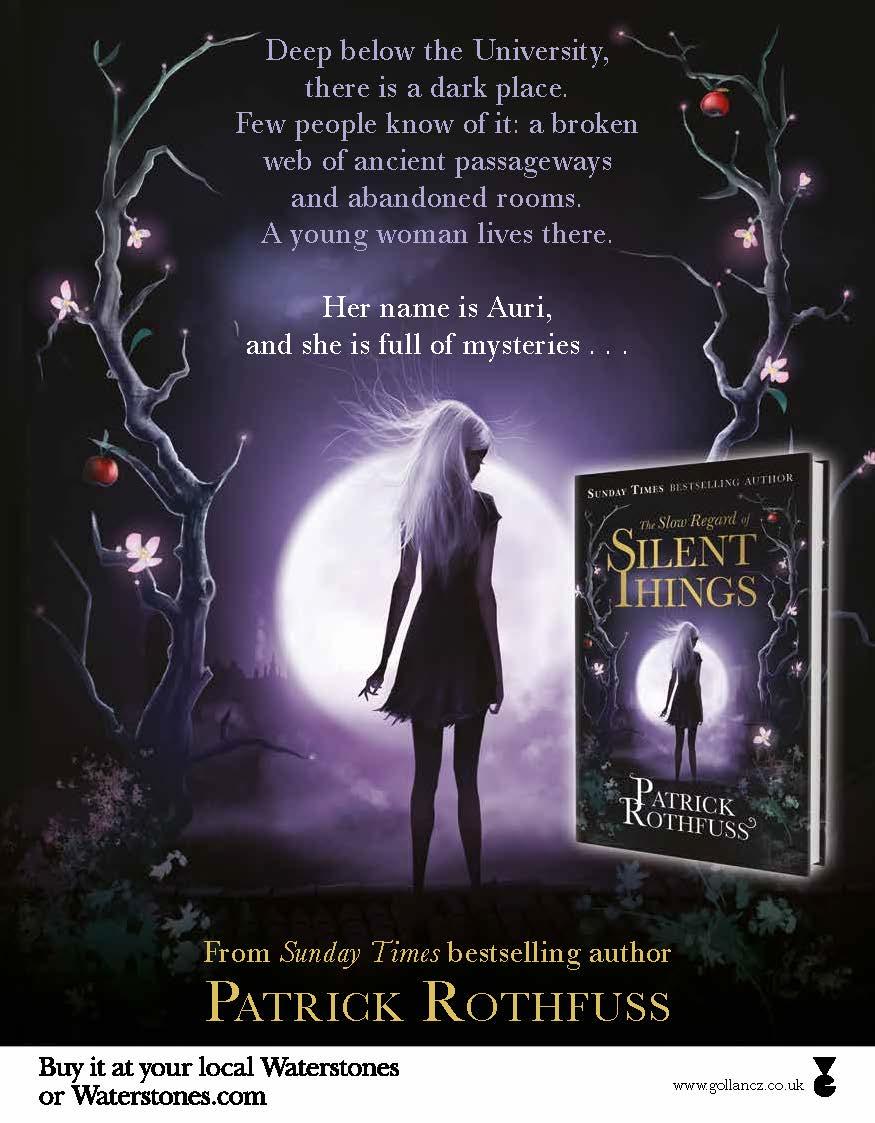 In my experience, spin-off stories are seen either as a great addition to the canon or a superfluous annoyance. Readers have to care about the characters they deal with. If not, then no-one wants to read their spin-off. Patrick has got this down to a tee. Auri is a perfect mixture of mysterious and realistic, and her voice is like nothing I have ever read before. Even in third person, she shines out through the page with her little routines and feelings towards objects and places. Solitary characters are often the ones who readers empathise with, and Auri is definitely one of these. Her world is as heartbreaking as it is beautiful.
Patrick admits that he was nervous about publishing Slow Regard because it is 'missing so many things that a story is supposed to need.' Fair point, it is. But is that a reason to be nervous? No. Stories do have conventions — at the very least there needs to be a plot and a character. Chuck in some dialogue, setting, conflict, action, and voila. But if some of these are missing, that doesn't make a story any less of a story. It just makes it different. And different isn't bad. As a writer, I'm a firm believer that you should always speak up for your work and not be afraid to share it, and if other people don't like it then so what? It's just not meant for them to read. But the chances are, if you write with love then that will be obvious to anyone, and they will love it, too. So well done, Patrick. Thank you for loving this story and being bold enough to send it out into the world. I'm sure you won't regret it. As you said, 'sometimes a story works because it's different.'
Aside from the beautiful cover art, this book also contains illustrations by Nathan Taylor. These fit the story perfectly, and really helped me to imagine Auri's world. Plus they add to the mood of the book. When there's pipes running across the page as you're reading, you can't help but be with those pipes, in that tunnel. The 'Underthing,' as Auri calls it, is a vast, complex space to set a story, and initially I found it a bit of a challenge to get my head around. Then the pictures turned up and that was it, I was there.
If you want a quick read or you're looking for something far away from conventional prose, then Slow Regard is it. If you're looking for some epic, breathtakingly addictive fantasy to dive into then just go ahead and start with The Name of the Wind.
The following two tabs change content below.
Amelia Starling is a writer and folklorist. She graduated from the University of Winchester with a degree in Creative Writing, and is Senior Editor for
Folklore Thursday
. She loves travelling and collecting stories, and spent 15 months living in Japan doing this alongside teaching English. Currently she is studying for a masters degree in Ethnology & Folklore at the University of Aberdeen. Amelia blogs about folklore and fairy tales at
The Willow Web
. You can follow her on Twitter
@amyelize
.
Latest posts by Amelia Starling (see all)